Aspiring Writers Workshop
Currently, this workshop is online via Zoom. Minimal enrolment is four writers with a cap of eight writers. Four weeks of classes, meeting once weekly for three hours. Admission is based on a short writing sample.
You've been working on a short story or two, or perhaps even a novel. If you're at the point where you're ready to begin sharing your writing with an accomplished and bestselling novelist while surrounding yourself with an intimate group of other like-minded peers, all in a lively, positive, and focussed environment, this four-week workshop is for you. The Aspiring Writers Workshop is geared to take your craft to the next level, in part by having your work thoroughly read and constructively critiqued by Joseph and the other workshop participants. In turn, you get to read and discuss your peers' submissions, the most tried-and-true method in developing a writer. As well as this, Joseph presents numerous short tutorials on craft as well as focused writing exercises (handouts included). The goal is to lift you to the next stage of your writing as you develop plenty of new insight and skills. Meet other writers who are focussed on the same goals and strike working friendships you can carry on beyond our workshop.
Workshop Includes:
Four weeks of classes, meeting once weekly for three hours. Admission is based on a short writing sample.
Minimal enrolment is four writers with a cap of eight writers.
Two intensive one-on-one consultations with Joseph: an initial 30-minute discussion to best define your needs and expectations and end with a 60-minute discussion to help send you off to the next stage of your literary journey. We'll have the opportunity to discuss your workshopped submission, your work globally, and any questions or thoughts that you may have.
Dispersed throughout the four weeks, Joseph will introduce you to "The Writer's Toolbox," a compendium he's gathered over the years, presented as a number of short and enlightening talks. These conversations examine, in detail, the concrete aspects of fiction, including character, summary, dialogue and point-of-view, among many others. As the workshop proceeds, Joseph will help guide you in your hands-on learning as you grow more comfortable wielding these tools in your own writing. Handouts summarizing these short lectures are shared.
A central focus of these 4 weeks is the opportunity for you to share at least one fiction submission with the rest of us (beyond sharing weekly writing exercises). In a safe and comfortable environment, your work will be constructively workshopped "live" by Joseph and your peers according to the "Iowa Workshop" style. Take your craft to the next level by listening as others discuss your work thoroughly and insightfully. In turn, you'll absorb valuable knowledge by getting the chance to read and discuss the work of your peers.
Joseph assigns you weekly specific, and practical writing exercises focused on developing your skill sets along with the purpose of germinating new and original story ideas. You'll be offered the chance to share the fruits of these exercises with Joseph and your peers.
Over the course of the workshop, Joseph will create an individual reading list of modern and contemporary writers specifically developed for you and your project.
Tuition: $600 plus HST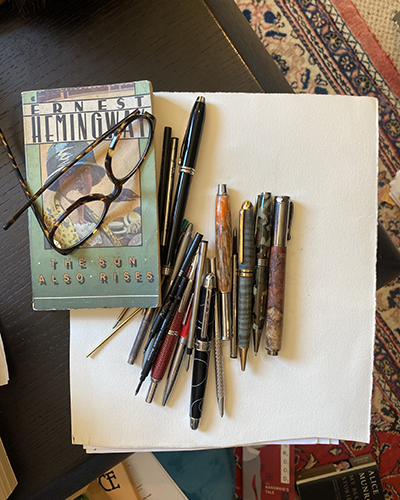 After participating in the Aspiring Writer's Workshop, I returned to my writing inspired and excited to put to use what I'd learned. Joseph was a generous instructor, offering specific, insightful feedback and encouraging us to take risks with our work. The sessions offered an engaging balance between workshopping individual pieces and Joseph sharing expert writing advice. I'm already looking forward to my next workshop with Sweetwater.
The Aspiring Writers Workshop with Joseph was the first step in propelling my writing to the next level. Our weekly group meetings brought out both editing details and broader writing strokes, which enabled me to improve my craft. Joseph created a positive environment that stimulated open discussion but most of all, he displayed wonderful flexibility to follow the lead of his workshop members to where help was most needed. He has an obvious passion for writing and the art of storytelling. Thank you & I'll be back.
Drop Us a Line
Don't be shy. Let us know if you have any questions!
Sweet Water Writers Workshop
Durham/West Grey, Ontario