SWEETWATER
WRITERS WORKSHOP
About Us
Created by the acclaimed and international best-selling author of Three Day Road, The Orenda, and Through Black Spruce, Joseph Boyden and Laura Vukson, Sweetwater Writers Workshop offers one-on-one mentorships, editing, workshops and retreats.
Joseph uses concrete methods and processes developed over 25 years of teaching. The focus is on your craft. Joseph's mentorship style is intensely thoughtful and thorough, utilizing constructive criticism as he helps you develop your voice, define your style, layer your characters, and fashion your narrative.
One-on-One Mentoring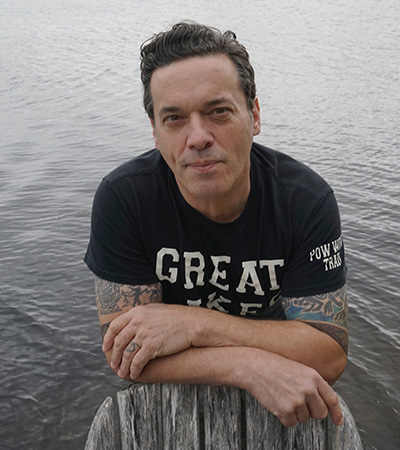 Are you working on a manuscript: A novel? A memoir? A collection of stories?  Here's the opportunity to work one-on-one with a bestselling and Giller Prize-winning author. Joseph's one-on-one mentoring is designed specifically for the individual writer, focusing on your needs and publishing goals. From the first steps of writing a short piece to fine-tuning a novel you're readying for publication, Joseph's insight and experience are aimed at making your work the best it can be. Work with Joseph on fulfilling your dream of finally completing that book you've been carrying inside your head.
Photo Credit: Peter Wood
Sweetwater Writers Workshops
Beginner's Guide to Writing Fiction
January 13, 14, 20, 21, 2024, 1 PM EST – 2 PM EST (Sat. &. Sun.)
Currently, this workshop is online via Zoom.

It's two weekends long, with two 90-minute classes per week.

No writing sample is necessary for admission. 
Tuition: $200 plus 13% HST 

Aspiring Writers Workshop
February 3, 10, 17, 24, 2024, 1 PM – 3 PM EST
Currently, this workshop is online via Zoom.

Minimal enrolment is four writers with a cap of six writers.

Four weeks of classes, meeting once weekly for two hours.

You will receive a 30-minute one-on-one discussion with Joseph.

Admission is based on a short writing sample.
Tuition: $450 plus 13% HST
Faa
A Three-Month Longform Workshop
FALL 2023 Workshop A & B — FULL
2024 Winter Dates:            Group A: Feb. 6, 20, March 5, 19, April 2 & 16, 2024, from 12 PM – 3 PM EST (Tuesdays)                                                              Group B: March 2, 16, 30, April 13, 27 and May 4, 2024 from 1 – 4 PM EST (Saturdays)
Currently, this workshop is online via Zoom.

Minimal enrolment is four writers with a cap of six writers.

Six weeks of classes, meeting twice a month for three hours.

You will receive two one-on-one discussions with Joseph.

Admission is based on a short writing sample.
Tuition: $900 plus 13% HST 
Retreat Workshop
May 15 – 19, 2024
May 22 – 26, 2024 
Retreats will be held at our century-old farmhouse near the southern
shores of Georgian Bay. 
Four nights, five days

Two submissions each | four writers | workshop style

Cozy places to write indoors and out

Two one-on-one writing meetings with Joseph Boyden (per writer)

Meals provided. 
"The class was well structured with clear attainable goals. The instructor was sensitive to the feelings of the beginner writer and did provide much positive feedback.
The instructor developed a positive relationship with the students that helped in the teaching of the course material. Clear and concrete examples of writing were provided to help in the relating of learning objectives."
JP Ducasse
"I joined a fiction writing workshop that I've always wanted to do and I'm grateful, mahsicho, that author Joseph Boyden taught me the graph of the story foundation. I hope that he saved it because it would make a great beadwork piece! As a strong visual learner and with my Indigenous language intact, I was able to see how this story foundation is important to make a story come alive, on paper and in imagination. I recommend this writing workshop for anyone who wants to learn the finer points of writing fiction. I'm grateful too that I am gaining confidence in creating great dialogues among my characters!"
Celine Mackenzie Vukson
"What a great opportunity to learn from one of Canada's finest fiction writers. Joseph Boyden gives you the tools that you will need to construct your story and to get you back on track when you feel you have lost your way. This class is well worth the investment in your fiction writing skill set."
Diana Fisher
"Joseph Boyden was one of my first and most influential writing mentors. His teacher's voice is not only generous and brilliant but heartening. Joseph's wisdom returns to me all the time—whether I'm thinking about the nuts and bolts of a single sentence or the greatest goals of my creative life and anything in between."
Nicholas Mainieri, author of The Infinite
"Joseph's guidance and mentorship made all the difference in the world. I always felt like I had the raw abilities, but Joseph helped me develop the skill and knowledge to turn raw abilities into polished (and published) works, a freelance writing career and so much more."
David Clinton Parker
"Impossible to imagine being the writer I am today without Joseph's nurturing guidance and instruction and the spirit of generosity he creates in his workshops."
Julian Zabalbeascoa
"Joseph Boyden was my first and most influential writing teacher. He's a devoted storyteller himself, and a generous and passionate person, and when those qualities marry, the results can change lives. I know he changed mine."
Peter Geye, author of Northernmost
Drop Us a Line
Don't be shy. Let us know if you have any questions!
Sweet Water Writers Workshop
Durham/West Grey, Ontario